 . . . . . . .
modern love stories
Connect with us
Sign up for our newsletter and special offers!
(P.S. We loathe spam and never share email addresses. We love our readers way too much.)
Until Next Year
Two best friends. Ten New Years. One unforgettable night.

Can a man and a woman just be friends? Gloria and Jacob put this question to the test, but will a lifelong friendship withstand their undeniable attraction?

Gloria's trained her whole life to dance at the American Ballet Company in New York. Now that she has a coveted spot, she won't let anything or anyone stand in her way. Too bad she's in love with her childhood best friend, Jacob, a famous rockstar every woman wants.

Jacob's been in love with Gloria since elementary school, but she treats him like her best buddy. Over the years, his feelings have only grown stronger. Will he ever get out of the friend zone? One thing is certain . . . he can't wait Until Next Year to find out.

If you loved Dear Pink, meet Gabe's sister in this stand-alone holiday romance.
---
Dear Pink
"We all know why we yearn for Romantic Comedies. We want to meet women we'd be friends with and join them when they swoon, cry, laugh, or ache. This book gives you that and more. It will seduce you with laughter, dropping your walls, then gut-check you as it deals with loss, grief, fear, and the sheer audacity it takes to really live well."
– Goodreads Reviewer

"Loved the cast of eccentric minor characters and adorable animals with all the ensuing antics. And the mysterious communications from beyond. But what stays with me most are Hannah and Gabe, in all their vulnerability, their sincerity, and their courage. Every page made me feel either worried, turned on, giggly, weepy, and in the end, tickled pink!"
– Amazon Reviewer
---
Wrong Guy, Right Room
"What a delightful romp in the sack! Fast-moving, deftly written and wickedly comical. "Wrong Guy, Right Room" captivates from the outset and is laugh-out loud funny. LOVED it!!!!"
– Amazon Reviewer

"This rom-com was light, hilarious, and sexy. The authors created refreshingly smart comedy mixed with fun romance. I snort-laughed reading this. Such an easy and modern read with lovable characters. Couldn't put it down!"
– Goodreads Reviewer

"I laughed and cried and couldn't stop turning the pages, with the bride-to-be facing an onslaught of shock and deceit, misreadings and memories. Loved the hot bed scenes. Long before she learns the secrets of her own heart, Katie stole mine! Put this one on your gift list!"
– Amazon Reviewer
---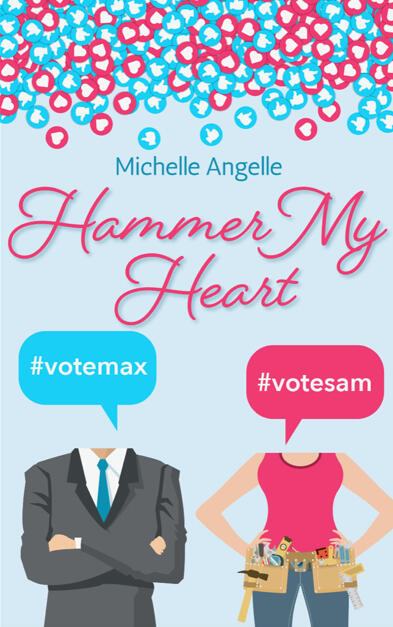 Hammer My Heart - Coming Spring 2022
All's fair in love and war until your heart is on the line.

Max blames himself for losing his family home, but when he's cast on the popular reality show, Go Hard or Go Home, he can't believe his luck. If only his competition wasn't a gorgeous woman in work boots and tight overalls.

Sam's often underestimated because of her looks, but she's determined to sweep the competition. Not even a cute guy in Clark Kent glasses will distract her. Will her mad woodworking skills and charisma be enough to win over the social media crowd?

Sam and Max should hate each other, but they can't deny the chemistry simmering between them. When the competition heats up, they must decide if they'll follow their hearts or fight for the renovated farmhouse. There can only be one winner in this game, but is the prize worth the cost of victory?
---
© MichelleAngelleBooks.
All rights reserved.
---
---